Izvinjavamo se što su ove stranice na engleskom jeziku.
The President Message
I have been pursing the meaning of the worthwhile attractive massage chair for all households and leading the industry in the massage chair since I established the company in 1962.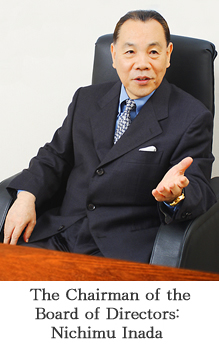 We are positioning the massage chair as "the only cultural health product Japan has ever invented" aiming to have every home of the world own a massage chair such as the television and the refrigerator.
Although Japan sends out various products to the world these days, "the massage chair" is one of a few products that were originally conceived, designed, and developed in Japan.
We believe that the massage is love.
We are developing the massage chair with love and hope people who use our massage chair become healthier and more physically fitting. We research and develop both software and hardware to pursuing the product with effect-efficacy.
The massage chair takes a large role for not only ease the stiffness but heal the hearts of the people by the relaxation.
It is said that the 21st century is the era of the preventive medicine.
The significance of the massage chair is not widely noticed, however, it is based on the ideas of preventive medicine and maintaining health.
The massage chair has more than 50 year-old history.
And we disseminate the massage chair widely across to the world. We believe that the massage chair will take a major role for the people's health not only Japan but around the world.
We want to continue creating to be able to send the massage chair, which is a crystal of the Japanese health culture, to each home of the world from Japan.
Company Profile
Company name
Family Co.,Ltd.
President and
Representative Director
Nichimu Inada
Founded
March 1962
Established
August 1966
Capital
100,000,000yen
Headcount
450
Business
Manufacture and Sale of massage chairs
Participating
association party
Japan Home Health Machinery Association
A chamber of commerce of Osaka
Headquarters
14th floor SORA Shin-Osaka 21, 2-1-3 Nishimiyahara, Yodogawa-ku, Osaka-shi

Overseas Sales Dept.
phone number
+81-6-4807-9271

fax number
+81-6-4807-9229
Osaka branch
14th floor, SORA Shin-Osaka 21, 2-1-3 Nishimiyahara, Yodogawa-ku, Osaka-shi
Tokyo branch
1-8-4 Shimizu, Suginami-ku, Tokyo
Sapporo branch
1st floor Meta Studio, 18-1-17 Kitarokujounishi, Chuou-ku, Sapporo-shi
Sendai branch
3-1-2 Kinoshita, Wakabayashi-ku, Sendai-shi, Miyagi
Nagoya branch
2st floor Hirano Building, 1-3-13 Habashita, Nishi-ku,
Nagoya-shi, Aichi
Hiroshima branch
1-21-5 Kannonhonmachi, Nishi-ku, Hiroshima-shi
Fukuoka branch
3rd floor Kyusan Higashi Building,2-6-4 Nanotsu, Chuou-ku, Fukuoka-shi
Nawa factory
1220 Takata, Daisen-chou, Saihaku-gun, Tottori
Subsidiary
発美利健康器械(上海)
有限公司(上海工場)
中国上海市閔行区元科路155号
Corporate Philosophy
Our job is to contribute to the health of society. It is our mission to develop fascinating products,to guarantee the quality,and to deliver them to people all over the world.
Carry out with a soul and be patient this ideal brings up a human being and builds the character. We value each employee's growth with the slogan "Kihaku"
"Jikkou" and "Nintai"
Inada History
1962
March
Production and sale of the automatic massager "family chair" starts by the name of Inamasa Bannou Kougeisha.
1966
August
Chuou Bussan Co., Ltd is established in Osaka Fuse city for the production and sale of the electric massager.(Capital 2,000,000yen)
1970
March
Company name is changed to Family Co.,Ltd.
1994
March
Factory is moved to current location in Tottori Seihaku-gun Meiwa-chou.
June
The main office is moved to Higashiyodogawa-ku, Osaka-shi.
1998
August
Subsidiary "発美利健康器械(上海)有限公司" is established in Shanhai, China.
2005
February
The main office and Osaka branch are moved to current location in Yodogawa-ku, Osaka-shi.
July
Opend "Kokusai FAMILY Plaza"
2007
September
Opend "Shateau Odaka"
2010
March
Joint company "上海稲納田貿易有限公司" is established in Shanghai, China.
April
Succeed the operation of "Daisen Lake Hotel" , started the management.
50th Anniversary
Family Co., Ltd. (president: Nichimu Inada, headquarters: Yodogawa-ku, Osaka-shi) will celebrate the 50th anniversary of its foundation in March 2012.
The business that was started by the founder, Nichimu Inada individually in 1962, having experienced work as a subcontractor and self-manufacturer of massage chairs and all-round manufacturing, has expanded to become a manufacturer specializing in massage chairs that are exported to over 70 countries around the world under the principles of:
wishing for smiles on people's faces around the world and contributing to their mental and physical health.
Family, being proud of massage chairs of Japanese origin, is determined to continue to strive wholeheartedly in its pursuit of making valuable products that truly please customers without compromise.
-Regarding establishment of the logo of the 50th anniversary - We have established the logo of the 50th anniversary for Family to make a greater leap forward this year.
* This logo is used for the promotion of Family Co., Ltd. from January 1, 2012 to December 31, 2013.
---
Sve dodatne informacije možete dobiti na tel: +381 (0)63 608 368